A Diverse Selection of CNC Machines We've Built for Numerous Industries
Not sure where to begin? No problem. Many of our customers weren't quite sure what they needed until they saw CNC machines we've brought to other businesses. If you don't see anything that fits your unique requirements, simply contact us and we'll help you figure it all out.
CNC Routing (Our Base CNC Machines)
CNT-1000 Series CNC Router
The CNT-1000 Series is a full-sized, servo-powered, high-performance machine designed for heavier applications, including nested-based fabrication of plastics, hardwoods, solid surface and non-ferrous metals.
CNT-950 Series CNC Router
The Servo-powered CNT-950 is our most affordable model and perfect for those new to CNC technology. It's also a great second or third machine for manufacturers looking to expand their current production capabilities.
CNC Machines for Curtain Wall Fabrication
In 1999, CNT built the first of several machines designed to drill and mill long aluminum extrusions for pre-engineered commercial building exterior wall coverings, known as curtain walls. Today, we're offering multiple automated solutions with custom work envelopes, pivoting heads, automatic tool changers, built-in vises, and alcohol/oil coolant systems.
ACM Panel / Alucobond CNC Machining
Our CNC machines are being used on ACM panels from top manufacturers. CNT Motion built our first machine like this for a Colorado-based fabricator looking to machine Alucobond® Composite Panels for pre-engineered commercial building exterior cladding. The company has supplied millions of square feet of composite panels all over the United States.
Stair Stringer and Tread Machine
CNT has been building CNC machines for cutting stair stringers and treads for a number of years
Our Stair Stringer and Tread CNC machine has two individually programmable X-axes, each attached to a Z-head for mirror-image and split-head machining to optimize material for the best possible yield. A custom software program allows the operator to pick material type and thickness, rise and run, style of stringer (box, open, horse-cut, winder, etc.) and end cuts.
Custom Table and Fixturing System for Fence Manufacturing
Since 1994, CNT Motion Systems has been manufacturing CNC machines for the fence industry
Our fence machines feature special air-activated, self-centering clamps to hold PVC, wood or aluminum fence posts ranging from 1-8″ in width. The two-, four- and eight-spindled configurations deliver high production for this efficient, affordable solution.
12-foot-long Table for Extrusion Machining and Small Parts Production
This CNT-1000 configuration provides a single-step automated solution
Since 1999, CNT has designed and built machines engineered to drill and mill aluminum extrusions for a variety of applications (including door & window frames, aircraft components, lighting enclosures and wall systems) and machine small parts for high production. With a 12-foot bed, 24 vise clamp positions, eight pop-up position stops, pivoting head, 15-position automatic tool changer and alcohol coolant system, this CNT-1000 provides a single-step automated solution. On the machine pictured here, the vise deck is removable to allow access to a fully functional vacuum grid bed for machining aluminum sheet material. The vise deck is removed using four lifting rings and easily and accurately reinstalled using location pins.
Bar Stock and Sheet Goods Metalworking
Our CNC Router/Mills are ideally suited for various metalworking applications
CNT Motion has been producing large-work-area metalworking CNC Router/Mills as a cost-effective solution for milling large, light-gauge to medium-thickness steel, aluminum, copper, brass and other metal bar/plate. Many of our customers have found that our CNC Router/Mills are ideally suited for their specific applications, providing greater flexibility, higher speeds and larger work areas than traditional vertical machining centers.
Conveyor Feed-through Parts Machining
This machine was designed to be installed inline with an existing panel processing cutter
Pre-cut parts are pushed into the machine from a stacker where an optical sensor activates the ball screw clamping of the servo-driven, conveyor-style belt feed. The part is moved at a high speed to the next optical sensor located 56″ from the in-feed where it is oriented to begin machining. The X-, Y-, Z- and W-axes machine the top profiles before the part is advanced by the conveyor belt system through the fixed (yet adjustable) Porter Cable slotting routers mounted at top and bottom.
Snowboards and Skis High-Production Manufacturing
For 24/7 production of four to eight boards at the same time with a short cycle time
This machine was one of four routers shipped to China for a CNT Motion customer who was setting up a new production facility for manufacturing snow boards and skis. The company, which bought two of these unique four-headed machines, came to us through their supplier of wood cores (also a CNT Motion customer). By producing four to eight boards at the same time, with a cycle time only minutes long, the company is producing hundreds of thousands of products a year. And, during their peak season, they're running the machines 24/7!
Surfboard and Stand-Up Paddleboard Shaping Systems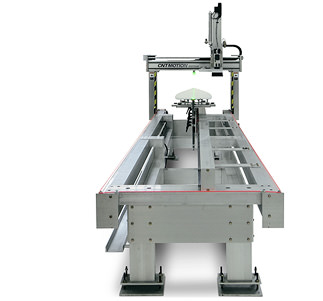 Since 2000, CNT has been building machines for high-production surfboard and stand-up paddleboard (SUP) shaping
Incorporating a specialized support system, digitizing capability and industry-standard shaping software, this machine has enabled our clients to successfully pursue this challenging market using CNC automation to boost both productivity and creativity.
The industry's most powerful 4-Axis CNC foam carving and flatbed router
This 4-Axis CNC foam carving and flatbed router delivers capabilities unavailable from traditional processes or lesser machines. This powerful machine's industrial strength, top-of-the-line features and unequaled precision enable you to expand your product offerings and broaden your market reach. Turn your imagination into reality by creating larger and more intricate pieces than ever before!
High-Production Wood, Plastics and Metal Machining
A powerful CNT-1000 4-head carving machine with front-loading table
A renowned manufacturer of inspirational art, home decor and gifts has deployed two identical four-headed machines for 3D high-resolution (4000 steps per inch/.0002) carving of various hardwoods — four to eight pieces at a time. To ease material loading/unloading, CNT Motion specially designed a custom 12′ X 4′ front-loading table.
3D Carving, Prototyping and Modeling
Offering a unique size and flexibility for prototyping and production
In 2003, CNT Motion Systems designed this 11′ X 20′ machine with four feet of Z-travel/clearance and a tilting spindle for Sage Cheshire, Inc. This California-based company has been providing services for many of the leading aerospace companies for more than 40 years. They offer prototyping and production services that utilize this CNC machining center's unique size and flexibility. For more information about Sage Cheshire and their services, visit their web site at sagecheshire.com.
Profiling, Grooving and Polishing
Used for profiling reinforced fiberglass plastic 2″ tall, 4″ wide and up to 35′ in length
In 1997, CNT Motion designed and built the first of five machines for a customer specializing in the management of water removal and sheet formation on all types of pulp and paper machines. Their unique process combines heat and air flow to remove moisture content from pulp. Currently, they have five CNT machines (three in the U.S. and two in the APAC region) used for profiling reinforced fiberglass plastic 2″ tall, 4″ wide and up to 35′ in length. Once machined, 2″ ceramic profiles are bonded to the material and (using the same machine) ground to within .002″ tolerance over the entire length and then polished to a #5-8 finish.
Granite and Stone Fabrication
For high-precision stone countertop and mantle fabrication
A Virginia-based state-of-the-art facility has deployed two of these powerful CNT stone fabrication CNC machines for high-precision stone countertop and mantle production. This machine holds 30 tools (15 on-the-fly; 15 rack-mounted) and has a 72″ X 168″ cutting area.
Four-Axis Lathe/Mill with Live Tooling
A fully autonomous state-of-the-art composite fabrication facility
This unique machine design best illustrates CNT Motion's ability to provide automation solutions to boost throughput and create a fully autonomous state-of-the-art composite fabrication facility. This machine was the centerpiece of a design that incorporated a CNC extractor feeding a CNC overhead auto-loader/unloader with part orientation and size identification, then feeding this lathe/mill unit, back to unloader and then, finally, to an out-feed conveyor.
UNIQUE APPLICATION?
Look no further. It's our specialty.
Just because you don't see it here, that doesn't mean we can't build it. CNT Motion Systems can design a solution that's just right for your product or application. Let's talk.