Motion Control Software
Setting the Standard for PC-based Motion Control.
Every CNT Motion machine is controlled by an IBM-compatible PC running state-of-the-art WinCNC Motion Control Software.
The intuitive user interface is easy to learn and convenient to use. All the features you need and expect are readily accessible via industry-standard G-Codes. Simple keystrokes provide the ability to start, pause, restart, jog and rapid-transit any axis without navigating multiple screens and windows.
WinCNC is capable of driving up to six axes simultaneously at 50khz while remaining incredibly smooth and never missing a step. All major CAM packages can produce G-Code files ready to run on WinCNC.
Incredibly smooth acceleration and arc moves are the result of its advanced algorithms. Each move is buffered using proprietary real-time vector-matching routines. The result is that your machine runs as smoothly and efficiently as possible, slowing down only when necessary.
WinCNC Custom Software
While third-party software applications are available for many types of parts production, specialized manufacturing sometimes requires specialized automation. Some CNT customers have commissioned the WinCNC team to develop custom software for advanced applications.
Specialized parts programming, custom user interfaces, importing and exporting capabilities, the ability to support peripheral devices and more can be designed specifically to fit your operation.
For more information about how the right software can help you get the most out of your CNC machine, contact CNT Motion or visit the WinCNC Website.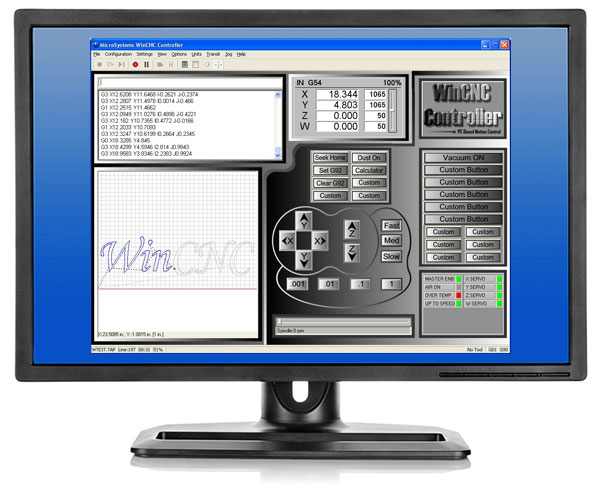 Control it from a PC!
Every CNC machine comes with WinCNC Software pre-installed. Ask about our industry-specific custom applications.
Visit our Third-Party Software Page for more information about available packages.
LET'S TALK SOFTWARE!
The right controller software makes all the difference.
From PC-based controller software to full-fledged 3D packages and everything in-between, we'll help you select the right one for the job.
Speak with an Engineer Today