CNT-900 4-headed CNC Router
Four Heads Cutting Simultaneously for High-Production Manufacturing
CNT-900 4-headed CNC Router
This 4-headed CNC router was one of four identical machines shipped to China for a CNT Motion customer who was setting up a new production facility for manufacturing snow boards and skis. The company, which bought two of these unique four-headed machines, came to us through their supplier of wood cores (also a CNT Motion customer). By producing four to eight boards at the same time, with a cycle time only minutes long, the company is producing hundreds of thousands of products a year. And, during their peak season, they're running the machines 24/7!
*Due to fluctuating supply markets, prices shown are subject to change. Please use pricing shown for reference only. Machines will be quoted at the time of inquiry.
Are You New to CNC Machining? We'll Train You!
CNC machining is easier to use than ever before. CNT Motion technicians will provide on-site training at the time of installation, with most customers quickly becoming skilled users.
CNT-950 4-HEADED CNC ROUTER FEATURES
60″ Wide X 120″ Long Cutting Area with Four 15″ Wide X 120″ Long Work Cells
Four 15″ X 120″ Vacuum Zones with Electric Switch Control On/Off
Pin Stops along Length of Outside Cutting Area for Material Reference
92″ Wide X 144″ Long Machine Footprint
AC Brushless Closed-loop Servo Drives
An IBM-Compatible PC, State-of-the-art WinCNC™ Motion Control Software in a NEMA 12 Cabinet
A Full-perimeter Cable E-Stop
Computer Control Spindle On/Off/Speed Changes
Automatic Tool-length Measure Switch
Pressurized and Lubricated 25mm Bearing System
Four 5hp HSD ISO30 Four-pole Long-nose 230V Tool Changers with Advanced Dust Collection
Four Four-station Tool Bar Units with ISO30 Tool Holders at Front of Table
One 25hp Two-stage Regenerative Vacuum and Grid Hold-down
CNT-950 4-HEADED CNC MACHINE SPECIFICATIONS
Repeatability: .001″
Positioning Accuracy: ±.002″
Cutting Area: 60″ X 120″
Z-axis Travel: 7″ *
Rapid Traverse X & Y: 1500 IPM
Rapid Traverse Z: 600 IPM
Drive Motor: Servo
Y-axis Drive System: Helical Rack-and-pinion
X- & Z- axes Drive System: Hiwin Ball Screw
Controller: Windows® PC
Warranty: 1 Year
Weight: Approx. 5000 Lbs.
*Standard specs. Optional dimensions available. Call for details and pricing.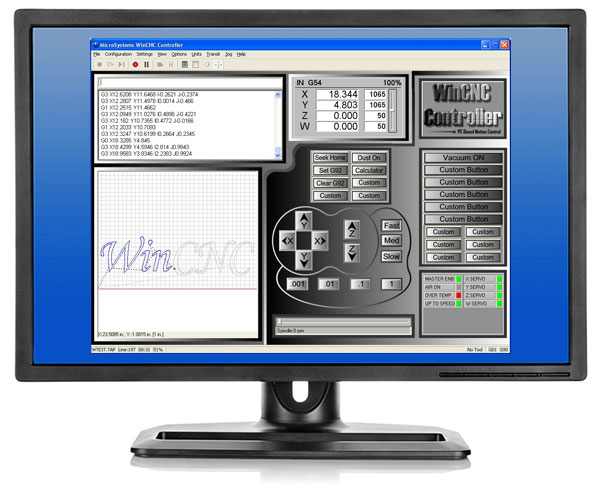 Control it from a PC!
Every CNC machine comes with WinCNC Software pre-installed. Ask about our industry-specific custom applications.
AFFORDABLE HIGH-PRODUCTION MACHINING!
The CNT-950 4-Headed CNC Router has the speed, precision and repeatability to get it done.
Our engineers are ready to help you determine if this machine is right for you.
Speak with an Engineer Today