This is Where Supplier Meets Demand.
Whether you have a small shop or multiple high-production facilities, CNC automation can help you reduce overhead and waste, while increasing productivity and efficiency. Since 1990, CNT Motion Systems has been bringing affordable automation to businesses just like yours.
Let's talk about your new CNC machine.
Four of Our Most Popular CNC Machines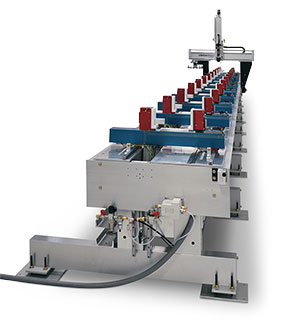 Curtain Wall Machines
Long Table for Machining Curtain Wall and Extrusions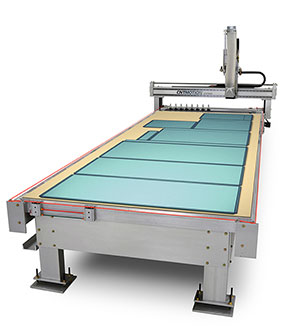 ACM & Alucobond Machines
For Fabricating ACM Panels & Alucobond
Stair Stringer Machine
Built in Response to Growing Demand.
CNC Fence Machines
Machine up to Eight Aisles with Eight Spindles.

We specialize in designing and building CNC machines for unique applications.
If you're looking for a company that can design a solution that's just right for your product or application, look no further. We're here to sell you nothing less than a perfect fit. So, if you don't see it on our website, let's talk.
Our Standard CNC Machines
CNT-1000 Series CNC Router
The CNT-1000 Series is a full-sized, servo-powered, high-performance machine designed for heavier applications, including nested-based fabrication of plastics, hardwoods, solid surface and non-ferrous metals.
CNT-950 Series CNC Router
The Servo-powered CNT-950 is our most affordable model and perfect for those new to CNC technology. It's also a great second or third machine for manufacturers looking to expand their current production capabilities.
View All Machines
CNT Motion has helped many businesses just like yours determine their ideal machining or fixturing solution. We can do the same for you.
By Material
The material you're fabricating plays a great role in determining which machine best suits your needs. Browse our CNC machines by materials being processed.
By Application
Specialized industry? We can likely design a CNC machine to fit your needs. Check out some table and fixturing solutions we've designed for unique applications.
By Configuration
From 30-foot tables and four heads cutting simultaneously to special fixturing and rotating spindles for 3D machining, view our CNC machines by configuration.
Featured Video
Dual Head Stair Jack Machine
This is a Dual Head Stair Jack Machine using Stair Designer Software from a Mi-Tec CNC. Old programs from a Mi-Tec can now be run on new CNT Motion Systems CNC Machines.
Watch More CNC Machines in Action!
If you're looking to see CNT Motion technology in action, visit our video library.
Commonly Asked Questions about Our CNC Machines
If you're new to CNC machining technology, we can help you sort through your options and make an informed decision. A great place to start is by visiting our FAQ page. You'll find information about automation technology, tooling, fixturing and more.
Who's Using Our CNC Machines?
Manufacturers from numerous industries have realized the benefits of affordable CNC technology from CNT Motion Systems. Our machines are being used worldwide by some of the largest manufacturers in their respective markets.
Are You a Current Customer Looking for Support?
Click here or on the logo below to download the TeamViewer executable file that will automatically install TeamViewer on your computer. Then, it will launch to begin your support session. When your CNT Support team member contacts you, he will provide you with a session code and further instructions. High-speed Internet access is required.
CONTACT CNT MOTION TODAY
We've been been bringing affordable CNC automation to businesses just like yours since 1990.
Our team can design a solution that's just right for your application. Let's talk.