CNC 3D Carving Machine
Ideal for prototyping, modeling and production
CNT-1000 CNC 3D Carving Machine with One Rotating 4-foot Z-Head and 11′ X 20′ Work Envelope
CNT Motion Systems designed this 11′ X 20′ CNC 3D Carving Machine with four feet of Z-travel/clearance and a tilting spindle for Sage Cheshire, Inc (formerly A2ZFX, Inc.). This California-based company has been providing services for many of the leading aerospace companies for more than 40 years. They offer prototyping and production services that utilize this machine's unique size and flexibility. For more information about Sage Cheshire and their services, visit their web site at sagecheshire.com.
Are You New to CNC Machining? We'll Train You!
CNC machining is easier to use than ever before. CNT Motion technicians will provide on-site training at the time of installation, with most customers quickly becoming skilled users.
CNC 3D Carving Machine Photos
(click to enlarge)
CNC 3D CARVING MACHINE FEATURES
132″ Wide X 240″ Long Cutting Area
180″ Wide X 264″ Long Machine Foot Print
Overall Height of Machine is 132″
AC Brushless Closed-loop Servo Drives
An IBM-compatible PC, State-of-the-art WinCNC™ Motion Control Software in a NEMA 12 Cabinet
A Full-perimeter Cable E-Stop
Computer Control Spindle On/Off/Speed Changes
Automatic Tool Length Measure Switch
Pressurized and Lubricated 25mm Bearing System
One 10hp HSD ISO30 Four-pole Long Nose 230V Tool Changer
Two Four-Station Tool Bars and Eight ISO30 Tool Holders
C-Axis for Head Rotation ±95 Degrees of Rotation
Top of Table is 12″ Above Floor
CNC 3D CARVING MACHINE SPECIFICATIONS*
Repeatability: .001″
Positioning Accuracy: ±.002″
Cutting Area: 132″ X 240″
Z-axis Travel: 48″
Rapid Traverse X & Y: 2000 IPM
Rapid Traverse Z: 300 IPM
Drive Motor: Servo
Y-axis Drive System: Helical Rack-and-pinion
X- & Z-axes Drive System: Hiwin Ball Screw
Controller: Windows® PC
Warranty: 1 Year
Weight: Approx. 10000 Lbs.
*Standard specs. Optional dimensions available. Call for details and pricing.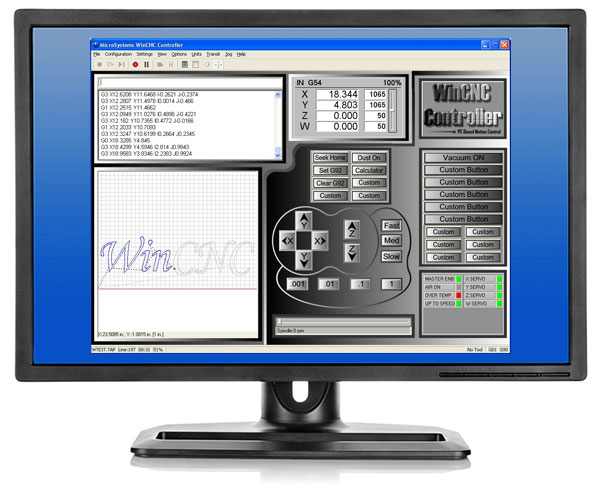 Control it from a PC!
Every CNC machine comes with WinCNC Software pre-installed. Ask about our industry-specific custom applications.
THIS IS ONE SERIOUS MACHINE!
And it could be the one that changes your business forever.
Contact CNT Motion today to see if this machine, or one similar to it, is right for you.
Speak with an Engineer Today