CNC Metalworking – Routers & Mills
An Affordable and Viable Alternative for Metal Parts Production
CNC Metalworking Router/Mills for Machining
CNT Motion has been producing large-work-area CNC metalworking Router/Mills as a cost-effective solution for milling large, light-gauge to medium-thickness steel, aluminum, copper, brass and other metal bar/plate. Many of our customers have found that our machines are ideally suited for their specific applications, providing greater flexibility, higher speeds and larger work areas than traditional vertical machining centers.
Whether you are trying to produce products out of brass, need a CNC router for aircraft aluminum parts, need to create aluminum signs, or metal plates, our CNC metalworking machines can make you more efficient.
*Due to fluctuating supply markets, prices shown are subject to change. Please use pricing shown for reference only. Machines will be quoted at the time of inquiry.
While our CNC metalworking machining centers are not designed to directly compete with vertical machining centers, we offer an affordable and viable alternative for metal parts production.
If one of our systems is not right for you, we'll let you know. Let's talk about your specific needs to see if we have a solution.
CNC METALWORKING MACHINE FEATURES
Y-Axis: Available from 24″ to 144″ wide
X-Axis: Available from 36″ to 600+" long
Z-Axis: Available from 7″ to 48+"
C-Axis Options

Tilt Spindle Head up to +120°
Tooling Rotation 360° + unlimited
Turn Table on Platform Bed, horizontal, rotation 360° + unlimited, diameter up to 120″
Lathe-style Rotation 360° + unlimited, length limited by material up to 500″ long, 36″ diameter

Spindle: 4 to 30 HP; Cooling: Fan or Chiller; Tooling: ISO 30 or 40, HSK-F-25 or 63; Speeds: 4,000 to 60,000 rpm
Coolant Delivery: Dry, Micro Drop, Flood, Mist, Spider Cool
Chip Collectors
Table Configurations: Flat Bed, Drop Bed, Over and Under, In Line Conveyor, or designed to your application
CNC METALWORKING MACHINE OTHER OPTIONS
Lasers (marking and cutting) (CO2, YAG and Fiber)
Marking Systems (Laser, Machining, Ball-Peening)
Vision Systems
Multiple Gantries
Measuring and Calibration Systems
Clamping (Air, Hydraulic and Mechanical Vises)
Vacuum Hold-down (Through and Gasketed)
CNC METALWORKING MACHINE SPECIFICATIONS
Repeatability: .001″
Mapped Positional Accuracy: ±.002″
Cutting Area: Specify
Z-axis Travel: Specify
Rapid Traverse X & Y: 2200 IPM
Rapid Traverse Z: 500 IPM
Drive Motor: Servo
Y-axis Drive System: Armoloy Coated Helical Rack-and-pinion
X- & Z-axes Drive System: Hiwin Ball Screw
C-axes Drive System: Gear Box
Controller: Windows® PC
Warranty: 1 Year
Weight: TBD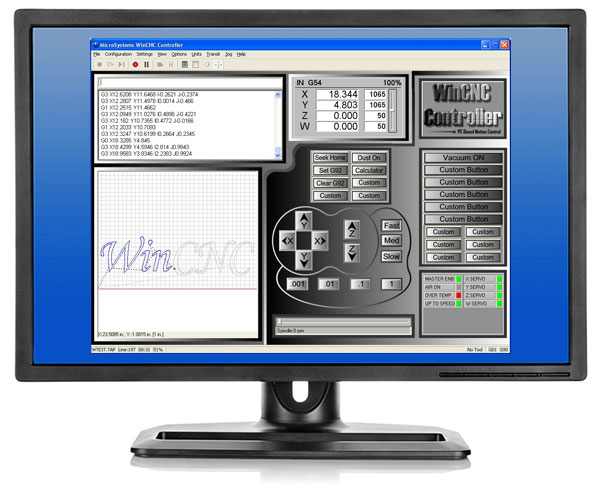 Control it from a PC!
Every CNC machine comes with WinCNC Software pre-installed. Ask about our industry-specific custom applications.
THIS MIGHT BE THE PERFECT SOLUTION.
Speak to a CNT Motion engineer to see if it's the right fit.
we will not try to sell or build you a machine that doesn't satisfy your needs.
Speak with an Engineer Today