CNC Profiling, Grooving & Polishing
With one rotating Z-head and air-actuated clamping system
CNT-1000 CNC Profiling, Grooving and Polishing Machine with One Rotating Z-Head
In 1997, CNT Motion Systems designed and built the first of five CNC profiling machines for a customer specializing in the management of water removal and sheet formation on all types of pulp and paper machines. Their unique process combines heat and air flow to remove moisture content from pulp. Currently, they have five CNT machines (three in the U.S. and two in the APAC region) used for profiling reinforced fiberglass plastic 2″ tall, 4″ wide and up to 35′ in length. Once machined, 2″ ceramic profiles are bonded to the material and (using the same machine) ground to within .002″ tolerance over the entire length and then polished to a #5-8 finish.
*Due to fluctuating supply markets, prices shown are subject to change. Please use pricing shown for reference only. Machines will be quoted at the time of inquiry.
Air-Actuated Fixturing Solution
CNT provided an air-actuated clamping system that can hold one or two parts on opposite sides of a center fence. The system has 5″ open clamping on both sides of the center fence. The clamps are activated by 50mm diameter air cylinders on 8″ centers (50 per side) and will exert 285 pounds of force at 100 psi. This can be regulated up or down using the air regulator attached to the clamping system. Each air cylinder has a toggle switch located by the individual cylinders to clamp and unclamp the parts. The center fence and the sliding clamps are undercut to provide clearance for debris and room for the ceramic edges during a vacuum and clamp operation. The parts are mounted and milled before shipping, but had additional material to allow them to be finish-milled upon installation at the factory. The vacuum system is operated by additional toggle switches and activates areas on the flat surface between the clamps (49 per side). Felt inserts on the intake ports of each vacuum zone prevent fiber glass and ceramic debris from filling lines, and are easily replaced by being cut from stock 1/2″ diameter felt rod. A Rietschle 10hp, 212 cfm at 29″ Hg, Rotary Vane Vacuum Pump with water-separating serge tank was provided with the fixturing.
The system mounts on the T-Slot Decking or could have been mounted directly to the machine table cross members, eliminating the T-Slot Decking. The table width was large enough to accommodate two of these systems, allowing hold-down of four parts at a time, and did not need an additional vacuum pump.
Are You New to CNC Machining? We'll Train You!
CNC machining is easier to use than ever before. CNT Motion technicians will provide on-site training at the time of installation, with most customers quickly becoming skilled users.
CNC PROFILING, GROOVING & POLISHING MACHINE FEATURES
48″ Wide X 420″ Long Cutting Area;
82″ Wide X 450″ Long Machine Footprint;
Emergency Stop Switch on Computer Cabinet;
AC Brushless Closed-loop Servo Drives;
An IBM-compatible PC, State-of-the-art WinCNC™ Motion Control Software in a NEMA 12 Cabinet;
Computer Control Spindle On/Off/Speed Changes;
Automatic Tool Length Measure Switch for Calibrating End Mills and Drills;
Laser Curtain for Measuring 10″ Grinding/polishing Wheels;
Pressurized and Lubricated 25mm Bearings with Large Reservoir for Self-filling Auto Lube System;
C-Axis for ±95 Degrees of Spindle Rotation with Nabtesco 153:1 Gearbox;
Drip Pans and Trays for Coolant Recycling;
Hose and On/Off Control of Coolant Flood;
Cabinet Cooler Unit for Electronics;
One 12Kw HSD ISO40 Four-pole 380V Long Nose Liquid-cooled Granite Spindle with Inox Coating;
Water Jacket, Max 12000 RPM with Halo and 12 Adjustable Flood Nozzles and Water Flow Sensor;
Remote Key Pad to Jog Machine/Run Programs;
T-Slot Fixturing on 8″ Centers for Attachment of Clamping Fixtures;
Gortac Heat-sealed Way Cover on X-Axis to Cover Rail and Ball Screw;
Custom-written Profiling/Grinding/Polishing Software Package;
A Keyence Laser is Mounted on the Gantry to Find the Maximum Height of the Ceramic to Begin Grinding and Verify the Finished Dimension after Polishing.
CNC PROFILING, GROOVING & POLISHING MACHINE SPECIFICATIONS
Repeatability: .001″
Positioning Accuracy: ±.002″
Cutting Area: 48″ X 420″
Z-axis Travel: 18″
Rapid Traverse X & Y: 2000 IPM
Rapid Traverse Z: 500 IPM
Drive Motor: Servo
Y-axis Drive System: Armolloy Coated Helical Rack-and-pinion
X- & Z-axes Drive System: Armolloy Coated Hiwin Ball Screw
Controller: Windows® PC
Warranty: 1 Year
Weight: Approx. 15000 Lbs.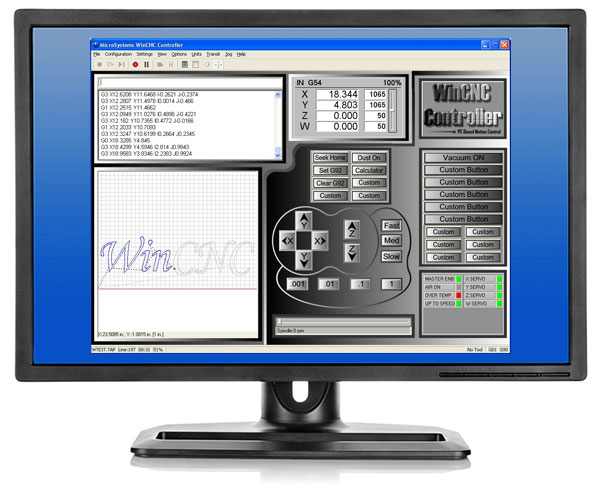 Control it from a PC!
Every CNC machine comes with WinCNC Software pre-installed. Ask about our industry-specific custom applications.
ENGINEERED FOR FLEXIBILITY & PRODUCTIVITY!
A CNT Motion-designed solution for specialized shaping and finishing.
Don't finish your day without contacting a CNT Motion team member.
Speak with an Engineer Today