Granite and Stone Fabrication
For High-Precision Stone Countertop and Mantle Fabrication
CNT-1000 Granite and Stone Profiling, Grinding and Polishing Machine
A Virginia-based state-of-the-art facility has deployed two of these powerful CNT stone fabrication CNC machines for high-precision stone countertop and mantle production. This machine holds 30 tools (15 on-the-fly; 15 rack-mounted) and has a 72″ X 168″ cutting area.
*Due to fluctuating supply markets, prices shown are subject to change. Please use pricing shown for reference only. Machines will be quoted at the time of inquiry.
Are You New to CNC Machining? We'll Train You!
CNC machining is easier to use than ever before. CNT Motion technicians will provide on-site training at the time of installation, with most customers quickly becoming skilled users.
CNC STONE FABRICATION MACHINE FEATURES
72″ Wide X 168″ Long Cutting Area;
163″ Wide X 198″ Long Machine Footprint;
Emergency Stop Switch on Computer Cabinet;
AC Brushless Closed-loop Servo Drives;
An IBM-compatible PC, state-of-the-art WinCNC™ Motion Control
Software in a NEMA 12 Cabinet;
Computer Control Apindle On/Off/Speed Changes;
Automatic Tool Length Measure Switch;
Pressurized and Lubricated 25mm Bearings with Large Reservoir for Self-filling Auto Lube System;
High-capacity Gutter Trough for Coolant Recycling;
Hose and On/Off Control of Coolant Flood;
Cabinet Cooler Unit for Electronics;
One 12Kw HSD ISO40 Four-pole 380V Long Nose Liquid-cooled Granite Spindle with Inox Coating and Water Jacket, Max 12000 RPM with Halo and 12 Adjustable Flood Nozzles and Water Flow Sensor;
Remote Key Pad to Jog Machine/Run Programs;
Gortac Heat Sealed Way Cover on X-Axis to Cover Rail and Ball Screw;
Custom-written Profiling/Grinding/Polishing Software Package;
Five Three-station Tool Bars Mounted on the Underside of the Bridge 6″ Centers;
15-position Stationary Tool Holder Mounted at Rear of Machine;
Blick Vacuum Hold-down Pod system (Optional for additional charge. Call for pricing);
Carter Laser Image Package to Project Tool Path on Machine Table Surface for Pod Placement (Optional for additional charge. Call for pricing).
CNC STONE FABRICATION MACHINE SPECIFICATIONS
Repeatability: .001″
Positioning Accuracy: ±.002″
Cutting Area: 72″ X 168″
Z-axis Travel: 14″
Rapid Traverse X & Y: 2000 IPM
Rapid Traverse Z: 500 IPM
Drive Motor: Servo
Y-axis Drive System: Armolloy Coated Helical Rack-and-pinion
X- & Z-axes Drive System: Armolloy Coated Hiwin Ball Screw
Controller: Windows® PC
Warranty: 1 Year
Weight Approx.: 10000 Lbs.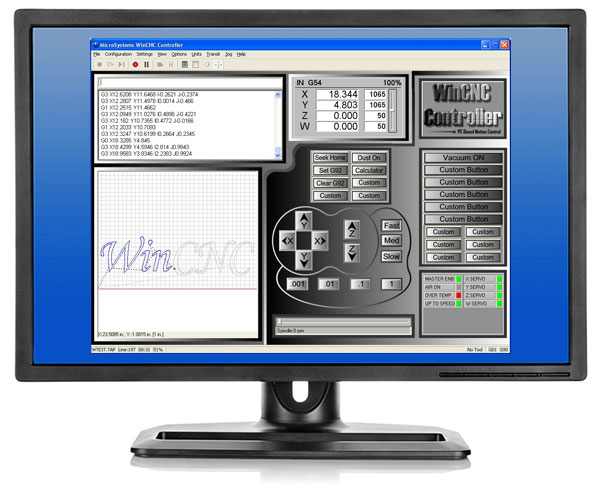 Control it from a PC!
Every CNC machine comes with WinCNC Software pre-installed. Ask about our industry-specific custom applications.
DESIGNED AND BUILT FOR THE JOB!
And up to the task … over and over and over again.
A CNT Motion Systems engineer is available to talk about what you can accomplish with CNC technology.
Speak with an Engineer Today