CNC Lathe Mill with Live Tooling
Create full 3D carvings up to a 4′ diameter and 10′ length from a single piece!
4-Axis CNC Lathe Mill with Live Tolling for Creating Full 3D Carvings
The industry's most powerful 4-Axis CNC lathe mill for foam carving delivers capabilities unavailable from traditional processes or lesser machines. This powerful flatbed machine's industrial strength, top-of-the-line features and unequaled precision enable you to expand your product offerings and broaden your market reach. Turn your imagination into reality by creating larger and more intricate pieces than ever before!
By replacing onerous manual processes with an automated solution, CNT Motion's 4-Axis CNC technology offers the capabilities for creating full 3D carvings (up to a 4′ diameter and 10′ length) from a single piece. Go from concept to creation in the shortest amount of time possible using RhinoCAD/CAM.
*Due to fluctuating supply markets, prices shown are subject to change. Please use pricing shown for reference only. Machines will be quoted at the time of inquiry.
*Pricing is provided for guidance only. Specific features may affect your price.
Are You New to CNC Machining? We'll Train You!
CNC machining is easier to use than ever before. CNT Motion technicians will provide on-site training at the time of installation, with most customers quickly becoming skilled users.
CNC LATHE MILL FEATURES
74″ X 147″ Structural Table Base
97″ Wide X 144″ Long Machine Foot Print
Five (5) Removable Cross Members for Table Deck Support
Lathe C-axis Maximum 24″ Radius Clear Part Rotation
One 9.3-HP HSD/SEV Two-Pole 230V Colletted Router (Optional Auto Tool Changer Available)
AC Brushless Closed-loop Servo
Pressurized and Lubricated 25mm Bearing System
Perimeter Cable E-Stop
Computer Control Spindle On/Off/Speed Changes
Automatic Tool Length Measure Switch
Onsrud Tooling Package
Computer with 17" Flat Screen Monitor
RhinoCAD/CAM Commercial Single-user Software 2-1/2- and 3-axis Solid Surface
NEMA 12 Gray Computer Control Cabinet
3-day Installation and Training**
**Purchaser is responsible for all travel and lodging expenses of installation/training personnel, including excessive travel. Travel to customer's location starts on first day of installation and training.
CNC LATHE MILL SPECIFICATIONS***
Repeatability: .001″
Positioning Accuracy: ±.002″
Cutting Area: 72″ X 120″
Z-axis Travel: 24″
Rapid Traverse X & Y: 2200 IPM
Rapid Traverse Z: 500 IPM
Drive Motor: Servo
Y-axis Drive System: Helical Rack-and-Pinion
X- & Z-axes Drive System: Hiwin Ball Screw
Controller: Windows® PC
Warranty: 1 Year
Weight: 6500 lbs.
***Standard specs. Optional dimensions available. Call for details and pricing.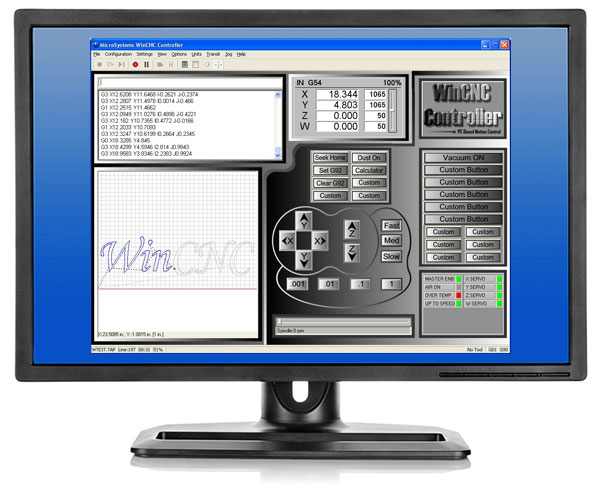 Control it from a PC!
Every CNC machine comes with WinCNC Software pre-installed. Ask about our industry-specific custom applications.
LET YOUR IMAGINATION RUN WILD!
Create full 3D carvings from a single piece with a CNC lathe mill.
Contact CNT Motion today, and let's open up the possibilities with CNC technology.
Speak with an Engineer Today