Conveyor Feed-through Parts Machining
Designed to be installed inline with an existing panel processing cutter.
Conveyor Feed-through Parts Machining for Use with Inline Panel Processing
This conveyor belt style CNC machine was designed to be installed inline with an existing panel processing cutter. The pre-cut parts are pushed into the machine from a stacker where an optical sensor activates the ball screw clamping of the servo-driven, conveyor-style belt feed.
The part is moved at a high speed to the next optical sensor located 56″ from the in-feed where it is oriented to begin machining. The X-,Y-,Z- and W-axes machine the top profiles before the part is advanced by the conveyor belt system through the fixed (yet adjustable) Porter Cable slotting routers mounted at top and bottom. An additional 2″ crosscut from the bottom is accomplished by positioning over the air slide-actuated router and pausing to allow the profile to be machined.
Our CNC router with continuous belt conveyor allows the part to continue through seamlessly until deposited off the backside of machine. Vacuum connections are provided on all routers for removal of dust and debris.
*Due to fluctuating supply markets, prices shown are subject to change. Please use pricing shown for reference only. Machines will be quoted at the time of inquiry.
*Pricing is provided for guidance only. Specific features may affect your price.
Are You New to CNC Machining? We'll Train You!
CNC machining is easier to use than ever before. CNT Motion technicians will provide on-site training at the time of installation, with most customers quickly becoming skilled users.
CONVEYOR FEED-THROUGH CNC MACHINE FEATURES
66″ Wide X 151″ Long Machine Foot Print
AC Brushless Closed-Loop Servo
Two 9.3 HP HSD/SEV Two-Pole 230V Colletted Router on Z-axis
Five (5) Porter Cable 7519 3-1/4 HP Single-Speed Routers
C-axis Gearbox and Chain Belt Drive
Pressurized and Lubricated 25mm Bearing System
Computer Control Spindle On/Off/Speed Changes
Custom Program Cycles Written for Customer's Parts
Perimeter Cable E-Stop
Computer with 17" Flat Screen Monitor
NEMA 12 Gray Computer Control Cabinet
3-day Installation and Training**
**Purchaser is responsible for all travel and lodging expenses of installation/training personnel, including excessive travel. Travel to customer's location starts on first day of installation and training.
CONVEYOR FEED-THROUGH CNC MACHINE SPECIFICATIONS***
Repeatability: .001″
Positioning Accuracy: ±.002″
Cutting Area: 24″ X 144″
Z-axis Travel: 7″
Rapid Traverse X, Y & C: 1500 IPM
Rapid Traverse Z & W: 500 IPM
Drive Motor: Servo
Y-axis Drive System: Helical Rack-and-Pinion
X-, Z- & W-axes Drive System: Hiwin Ball Screw
Controller: Windows® PC
Warranty: 1 Year
Weight: 4000 lbs.
***Standard specs. Optional dimensions available. Call for details and pricing.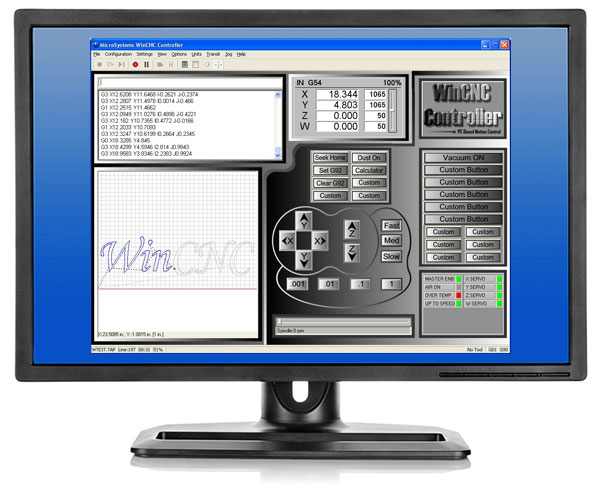 Control it from a PC!
Every CNC machine comes with WinCNC Software pre-installed. Ask about our industry-specific custom applications.
TAKE PANEL PROCESSING TO ANOTHER LEVEL
CNT Motion can help you make it happen.
Contact our engineers today.
Speak with an Engineer Today