Whether you have a small shop or multiple high-production facilities, CNC machining can help you reduce overhead and waste, while increasing productivity and efficiency. We build our machines to handle the most rigorous production demands. All of our machines are full-size and engineered for fabricating parts around-the-clock!
CNT Motion's CNC machining centers are designed for easy maintenance and built to the strictest standards using industrial-quality components. Our growing list of accessories includes high-speed (up to 40,000 RPM) spindles, tool changers, vacuum fixturing systems, dust collectors, controller cabinets and more. And, CNT Motion Systems takes advantage of the user-friendly interface of a Windows®-based PC controller.
Every one of our USA-made CNC machining centers is fully tested and inspected before it leaves our manufacturing facility. Each machine is delivered completely assembled and pre-wired to help minimize installation and set-up fees. (Set-up and installation usually takes less than a day.) Installation and training services are performed by our own employees — the same ones who build the machines.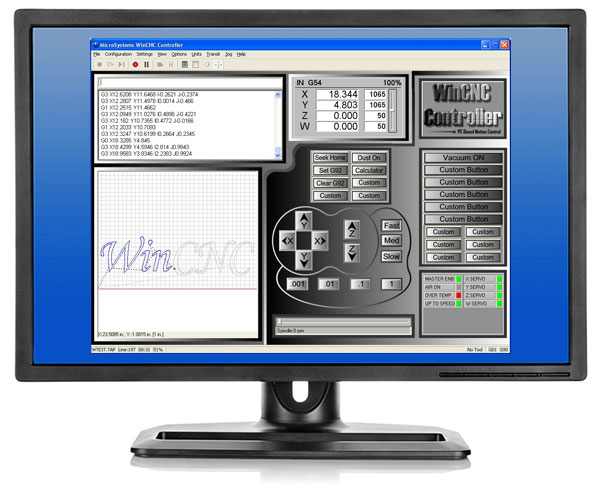 Control it from a PC!
Every CNC machine comes with WinCNC Software pre-installed. Ask about our industry-specific custom applications.
Are You New to CNC Machining? We'll Train You!
CNC machining is easier to use than ever before. CNT Motion technicians will provide on-site training at the time of installation, with most customers quickly becoming skilled users.
What Type of CNC Machining Solution Are You Looking for?
Do You Have a Unique Application or Specialty?
CNT has been able to build machines that our competition chose not to build. Once we understand your manufacturing process and production goals, we can design a solution to fit them.
What Material Are You Fabricating?
CNT customers are machining just about any material, including ACM/Alucobond, curtain wall, vinyl, granite/stone/marble, aluminum, ferrous and non-ferrous metals, foam & plastics, wood, solid surface, ceramic, reinforced fiberglass, honeycomb and carbon/carbon fiber composites.
Does Your Application Require a Special Machine Design?
From 30-foot tables and four-foot Z-travel distances to rotating heads for 3D carving and special fixturing for unusual parts, CNT Motion can help you determine a configuration that best suits your needs.
Not Sure Where to Begin?
No problem. Many of our customers weren't quite sure what they needed until they saw solutions we've brought to other businesses. If you don't see anything that fits your unique requirements, simply contact us and we'll help you sort it all out.
CHALLENGE US
We specialize in designing and building machines for unique applications.
If you're looking for a company that can design a solution that's just right for your product or application, look no further. We're here to sell you nothing less than a perfect fit. So, if you don't see it on our website, let's talk.