CNT-950 Series CNC Router
Can Be Built with Virtually Any Table Size for Most Applications
CNT-950 Series CNC Router
The Servo-powered CNT-950 Series is our most affordable CNC Router and perfect for those new to CNC technology. It's also a great second or third machine for manufacturers looking to expand their current production capabilities. The CNT-950 is built to the same precision standards as all of our machines and is our most flexible model — we can build it with virtually any table size. It's also another great machine for nested-based manufacturing, so you can get the most out of your material. Simply add a drill motor or spindle and you'll be ready to machine your parts quickly and cost-effectively.
*Due to fluctuating supply markets, prices shown are subject to change. Please use pricing shown for reference only. Machines will be quoted at the time of inquiry.
Need a Little More Muscle?
Our CNT-1000 CNC Router is full-sized and designed for heavier applications.
CNT-950 SERIES BASE MODEL FEATURES
1500 IPM Positioning Speeds X- & Y-axes
500 IPM Positioning Speeds Z-axis
AC Brushless Closed-loop Servo
X- & Z-Axis Hiwin Ball Screw Drive
Y-Axis Helical Rack-and-pinion Drive
Z-Axis has 7″ Vertical Motion
60″ Wide X 120″ Long Cutting Area
74″ Wide X 149″ Long Machine Foot Print
Perimeter Cable E-Stop
Computer Control Spindle On/Off/Speed Changes
Automatic Tool Length Measure Switch
64″ X 149″ Structural Table Base and Long Rails
Includes Onsrud Tooling Package for Nested Manufacturing
Pressurized and Lubricated 25mm Bearing System
One 12-HP HSD ISO30 Four-pole 230V Tool Change Router
Long-nose Spindle with Advanced Dust Collection 24,000 RPM On The Fly Spindle Speed Control
12-station Fixed Tool Bar and Eight ISO30 Tool Holders
25-HP FPZ Regenerative Vacuum Blower and Switch Gear
13.2 Hg, 380 CFM, 60″ X 120″ X 1/2″ Aluminum Vacuum Grid
Five Air-actuated Pop-up Pin Material Stops
EnRoute7 Plus CAD/CAM Software with Nesting
Windows10 Pro Computer with 17" Monitor
Windows CNC Controller Software
NEMA 12 Computer Control Cabinet
3-day Installation and Training (Does not include Installers' Travel Expenses, Accommodations and Per Diem.)
CNT-950 SERIES BASE MODEL SPECIFICATIONS
Repeatability: .001″
Positioning Accuracy: ±.002″
Cutting Area: Customer-Specified
Z-axis Travel: 7″ or 11″ *
Rapid Traverse: 1500 IPM
Drive Motor: Servo
Y-axis Drive System: Helical Rack-and-pinion
X- & Z-axes Drive System: Hiwin Ball Screw
Controller: Windows® XP® PC
Warranty: 1 Year
Weight: Approx. 2500 Lbs.
*Standard specs. Optional dimensions available. Call for details and pricing.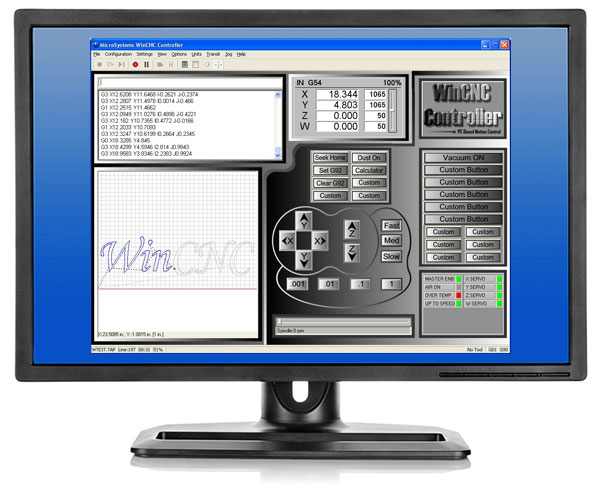 Control it from a PC!
Every CNC machine comes with WinCNC Software pre-installed. Ask about our industry-specific custom applications.
IF YOU THINK A CNC ROUTER IS SOMETHING YOU CAN'T AFFORD, THINK AGAIN.
Designed for easy maintenance and built to the strictest standards … yours.
Since 1990, CNT Motion Systems has been bringing affordable CNC Routers to businesses just like yours.
Speak with an Engineer Today