12-foot Extrusion Machining and Small Parts Production
12-Foot Table with One Tilting Z-head and 4′ X 12′ Work Envelope
CNT-1000 Extrusion Series CNC Machine with One Tilting Z-head 4′ X 12′ Work Envelope
Since 1999, CNT has designed and built machines engineered to drill and mill aluminum extrusions for a variety of applications (including door & window frames, aircraft components, lighting enclosures and wall systems) and machine small parts for high production. With a 12-foot bed, 24 vise clamp positions, eight pop-up position stops, pivoting head, 15-position automatic tool changer and alcohol coolant system, this CNT-1000 provides a single-step automated solution. On the machine pictured here, the vise deck is removable to allow access to a fully functional vacuum grid bed for machining aluminum sheet material. The vise deck is removed using four lifting rings and easily and accurately reinstalled using location pins.
*Due to fluctuating supply markets, prices shown are subject to change. Please use pricing shown for reference only. Machines will be quoted at the time of inquiry.
Are You New to CNC Machining? We'll Train You!
CNC machining is easier to use than ever before. CNT Motion technicians will provide on-site training at the time of installation, with most customers quickly becoming skilled users.
12-Foot Extrusion CNC Machine Photos
(click to enlarge)
CNT-1000 EXTRUSION CNC MACHINE FEATURES*
48″ Wide X 144″ Long Cutting Area;
101″ Wide X 175″ Long Machine Footprint;
AC Brushless Closed-Loop Servo Drives;
An IBM-Compatible PC, State-of-the-art WinCNC™ Motion Control Software in a NEMA 12 Cabinet;
A Full-perimeter Cable E-Stop;
Computer-control Spindle On/Off/Speed Changes;
Automatic Tool-length Measure Switch;
Pressurized and Lubricated 25mm Bearing System;
One 10hp HSD ISO30 Four-pole Long-nose 230V Tool Changer;
15-Position Tool Turret;
C-axis for +95 Degrees of Head Rotation;
SMC Alcohol Misting System;
Six Four-position Vise Clamps with Individual Control – 8″ Long, 2.75″ Deep, 0-8″ Clamp Range;
Eight Pop-up Part Location Pins
*Note that the vacuum system is not included in the price shown. Vacuum system is available for $13,865.00 and sold as an option. CNT Motion can manufacture automated clamping and hold-down fixtures, or the customer can provide their own.
CNT-1000 EXTRUSION CNC MACHINE SPECIFICATIONS
Repeatability: .001″
Positioning Accuracy: ±.002″
Cutting Area: 48″ X 144″
Z-axis Travel: 18″ **
Rapid Traverse X & Y: 2000 IPM
Rapid Traverse Z: 500 IPM
Drive Motor: Servo
Y-axis Drive System: Helical Rack-and-pinion
X- & Z-axes Drive System: Hiwin Ball Screw
C-axis Drive System: 153:1 Gear Box
Controller: Windows® PC
Warranty: 1 Year
Weight: Approx. 7500 Lbs.
**Standard specs. Optional dimensions available. Call for details and pricing.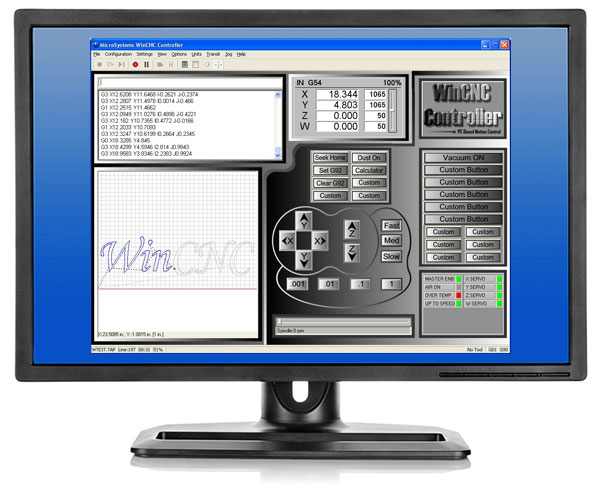 Control it from a PC!
Every CNC machine comes with WinCNC Software pre-installed. Ask about our industry-specific custom applications.
A SINGLE-STEP AUTOMATED SOLUTION.
Your next step is to contact CNT Motion and speak to an engineer.
If it's not right for you, we'll let you know and help point you in the right diection.
Speak with an Engineer Today