4-Axis CNC Lathe Mill
A Fully Autonomous State-of-the-Art Composite Fabrication Facility
CNT-1100 Series 4-Axis CNC Lathe Mill with Live Tooling
This unique machine design best illustrates CNT Motion's ability to provide automation solutions to boost throughput and create a fully autonomous state-of-the-art composite fabrication facility. This 4-axis CNC lathe mill machine was the centerpiece of a design that incorporated a CNC extractor feeding a CNC overhead auto-loader/unloader with part orientation and size identification, then feeding this lathe/mill unit, back to unloader and the, finally, to an out-feed conveyor.

*Due to fluctuating supply markets, prices shown are subject to change. Please use pricing shown for reference only. Machines will be quoted at the time of inquiry.
Are You New to CNC Machining? We'll Train You!
CNC machining is easier to use than ever before. CNT Motion technicians will provide on-site training at the time of installation, with most customers quickly becoming skilled users.
4-Axis CNC Lathe Mill Photos
(click to enlarge)
4-AXIS CNC LATHE MILL FEATURES
30″ Wide X 168″ Long Cutting Area
84″ Wide X 234″ Long Machine Footprint
Emergency Stop Switch on Computer Cabinet
AC Brushless Closed-loop Servo Drives
An IBM-compatible PC, State-of-the-art WinCNC™ Motion Control Software in a NEMA 12 Cabinet
Computer Control Spindle On/Off/Speed Changes
Automatic Tool-length Measure Switch for Calibrating End Mills and Drills
Gravity-feed Drip Pan Base with Wash-down Bars to Move Material into Chip Filtration System
LNS Turbo Microfine-2 Drum Filter Chip Conveyor
Blue Control Cabinet with Stack Light Indicator
Automatic Tool-length Measure Switch
Cold Gun Cabinet Cooler Units for Electronics
On/Off Control of Coolant Flood
Pressurized and Lubricated 25mm Bearings with Large Reservoir for Self-filling Auto Lube Oil System
One 15Kw HSD HSK F63 Four-pole 380V Long-nose Liquid-cooled Tool Change Spindle with Chiller Unit
Halo with 12 Adjustable Flood Nozzles, Water Flow Sensor and Air Pressure Sensor
Four Tool Bars on Machine Bridge with Eight ISO40 Tool Holders to Support 5″ Maximum Diameter Tools
Granite-style Bridge and Gusset Structure with Additional Lead Weight and Cross Support;
Gortac Heat-sealed Way Cover on Y-axis to Cover Rail and Ball Screw
Flow Pro, Inc. Model PBLS-6.5 Automatic Filtration System with 20-micron Filtration Media
Two SMW Autoblok SP 350-115 3J Z235 Pneumatic Lathe Chucks & Cylinders Mounted on Nabtesco
RD-E Series 080E In-line Reduction Gear Boxes and Servo Actuators to Provide Dual-powered Chucking
Renishaw Touch Probe System Carried on Z-head with Retractable Slide Actuator
Two Pneumatic Lifting Cradles for Part Orientation During Loading and Unloading
Two Servo-actuated V-block Center Rests for Part Orientation During Load and Unload Sequence
Remote Key Pad to Jog Machine and Run Programs
4-AXIS CNC LATHE MILL SPECIFICATIONS
Repeatability: .001″
Positioning Accuracy: ±.002″
Cutting Area: 30″ X 168″
Z-axis Travel: 24″
Rapid Traverse X & Y: 2000 IPM
Rapid Traverse Z: 500 IPM
Lathe Rotational Speed: 70 RPM Maximum
Tailstock: 1000 IPM
Drive Motor: Servo
Y-axis Drive System: Armoloy Coated Helical Rack-and-pinion
X-, Z- & Tailstock Axes Drive System: Armolloy coated Hiwin Ball Screw
Controller: Windows® PC
Warranty: 1 Year
Weight: Approx. 12000 Lbs.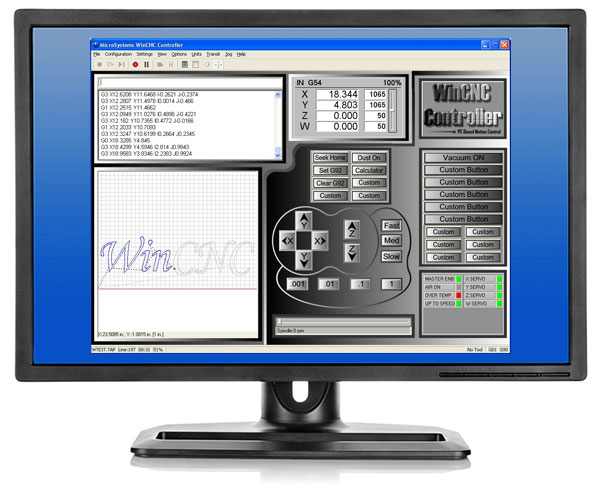 Control it from a PC!
Every CNC machine comes with WinCNC Software pre-installed. Ask about our industry-specific custom applications.
A UNIQUE DESIGN FOR AN AUTOMATED SOLUTION.
This 4-axis CNC lathe mill can become the centerpiece of your shop.
Contact us today to learn more about CNT Motion's 4-axis CNC technology.
Speak with an Engineer Today