ACM Panel & Alucobond CNC Machine
With One Z-head and 62″ X 196″ Work Envelope
CNT-950 ACM Panel & Alucobond CNC Router with One Z-head 62″ X 196″ Work Envelope
196″-long Table for ACM Panels & Alucobond CNC Machining
CNT Motion was contacted by a Colorado-based fabricator looking to machine ACM panels (Alucobond) for pre-engineered commercial building exterior cladding. The company, which has supplied over 6.5 million square feet of aluminum composite panels all over the United States, turned to CNT to provide an automated Alucobond CNC solution large enough to handle two ACM panels at a time and accurate enough to V-groove to within +0.002″ depth over a 5′ X 24′ surface area. That became the first ACM Panel & Alucobond CNC Machine we've built for this company and various others.
Includes the following options:
Aluminum Misting System
Dual-Zoned Table
EnRoute V23 CAD/CAM
3-HP Cyclone Dust Collector
Installation and Training
Freight and expenses not included.
Our CNC machines are being used on ACM panels from top manufacturers, including Alucobond, Laminators, Alucoil, Reynobond, Vitrabond, Alpolic, Mitsubishi and more.
*Due to fluctuating supply markets, prices shown are subject to change. Please use pricing shown for reference only. Machines will be quoted at the time of inquiry.
Check out the CNC machines we've built for the curtain wall industry, inlcuding one designed for both curtain wall and ACM panels.
ACM Panel & Alucobond CNC Machine Video
ACM Panel Machine 62″ Wide X 196″ Long Cutting Area, 12-HP 4-Pole ISO30 Automatic Tool Change Spindle with 8 Tools, 25-HP Vacuum Hold Down System
ACM PANEL & ALUCOBOND MACHINE FEATURES
62″ Wide X 196″ Long Cutting Area;
81″ Wide X 223″ Long Machine Footprint;
AC Brushless Closed-loop Servo Drives;
An IBM-Compatible PC, State-of-the-art WinCNC™ Motion Control Software in a Nema 12 Cabinet;
A Full-perimeter Cable E-Stop;
Computer Control Spindle On/Off/Speed Changes;
Automatic Tool-length Measure Switch;
Pressurized and Lubricated 25mm Bearing System;
One 12-HP HSD ISO30 Four-pole Long-nose 230V Tool Changer with Advanced Dust Collection;
One 12-Position Tool Bar and Eight ISO30 Tool Holders;
One 25-HP Two-stage Regenerative Vacuums and Grid Hold-down
ACM PANEL & ALUCOBOND MACHINE SPECIFICATIONS
Repeatability: .001″
Positioning Accuracy: ±.002″
Cutting Area: 62″ X 196″
Z-axis Travel: 8″ *
Rapid Traverse X & Y: 1500 IPM
Rapid Traverse Z: 550 IPM
Drive Motor: Mitsubishi Servo
Y-axis Drive System: Helical Rack-and-pinion
X- & Z-axes Drive System: Hiwin Ball Screw
Controller: Windows® PC
Warranty: 1 Year
Weight: Approx. 3500 Lbs.
*Standard specs.Optional dimensions available. Call for details and pricing.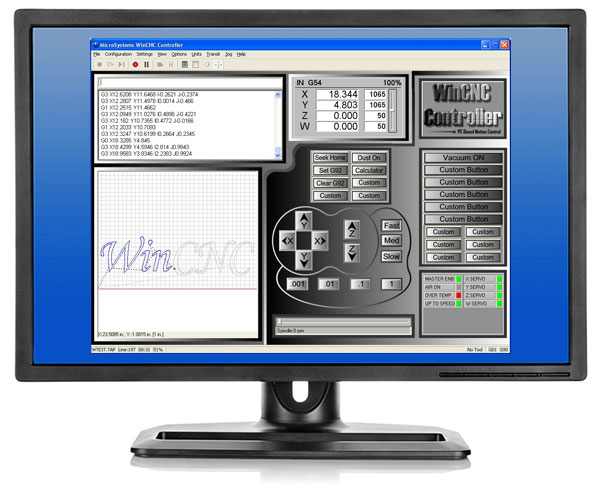 Control it from a PC!
Every CNC machine comes with WinCNC Software pre-installed. Ask about our industry-specific custom applications.
LET'S TALK ABOUT YOUR NEXT CNC MACHINE.
And your increased productivity.
Contact the CNT Motion team today and let's start a conversation. We're available to answer any questions and help you make an informed decision.
Speak with an Engineer Today