Curtain Wall CNC with Vises
Featuring 4 Axes, 8 Vises, and a 16″ X 240″ X 20″ Cutting Area
Four-Axis CNT-1000 Series Curtain Wall Machine with 8 Vises and 16″ X 240″ X 20″ Cutting Area
A robust and versatile solution for machining long, heavy-wall aluminum parts.
This 16″ X 240″ cutting area, 4-Axis, 1000 Series CNC machine has 8 vises to machine light- to heavy-wall aluminum extrusions for pre-engineered commercial building exterior wall coverings, known as curtain walls. Eight (8) air-actuated sliding vise jaws provide up to 490 pounds each of hold force at 100 psi, and material clamping up to 15.25″ wide. Air clamps hold the vises in place once moved to your desired position, and are activated by a switch conveniently located at the side of the fixed jaw. Two pop-up-stops allow for one (1) 127″ and one (1) 116″ part to be clamped at one time, or one (1) 240″ part. An enclosure with windows allows the operator to observe the machining operation while remaining protected. An orange perimeter cable E-Stop is provided for stopping the machine in case of an emergency.
*Due to fluctuating supply markets, prices shown are subject to change. Please use pricing shown for reference only. Machines will be quoted at the time of inquiry.
Check Out All of Our CNC Curtain Wall Machines
CNC Curtain Wall Machine with Vises Photos
(click to enlarge)
FEATURES OF MACHINE SHOWN
Starter Set of Router Bits ($700.00 Value) Includes End Mills for Wood/Plastic/Metal, Depending on Your Application.
Type 12 UL-Listed Enclosure on Casters that Houses all Electronics, Windows11 Pro Computer with 17″ Flat Screen Color Monitor, 16 GB of RAM, 6 USB Ports, Wireless Keyboard and Mouse.
One 20-HP (15kW) HSD HSK F63 4-Pole 230/380 Tool Change Long Nose Spindle, 24,000 RPM with Ideal Chiller, On-the-fly Spindle Speed Control. SMC Drum Thief for Alcohol/Coolant Misting System and Spindle-Mounted Spray Delivery Nozzle.
15 Total Tool Positions are Available on the Bridge Turret. The Machine Comes with 8 ISO 30 Tool Cones and Your Choice of 8 Collets for the Diameter of the Tools You Choose. Additional Tool Cones and Collets can be Purchased.
4 Days Installation and Training. Purchaser is Responsible for All Travel and Lodging Expenses of Installation/Training Personnel, including Excessive Travel.
SPECIFICATIONS OF MACHINE SHOWN
2200 IPM Positioning Speeds X- and Y-Axes
500 IPM Positioning Speed Z-Axis
Mitsubishi AC Brushless Closed-Loop Servos
Y-Axis Helical Rack and Pinion Drive
X-Axis 25mm Hiwin Rotating Nut Ball Screw Drive
Z-Axis 16mm Hiwin Ball Screw Drive
C-Axis 161:1 Nabtesco Cycloidal Gear Reducer
C-Axis Head Rotation -92 Degrees/+92 Degrees
16″ wide X 240″ long X 20″ tall, Cutting Area, 25″ Throat
Travel 60″ X-Axis, 266″ Y-Axis, 24″ Z-Axis
62″ wide X 304″ Long Structural Table Base
93″ wide X 304″ long X 122″ tall, Physical Footprint
Computer Control Spindle On/Off/Speed Changes
Automatic Tool Length Measure Switch
15-Position Tool Turret on Retractable Slide
Includes Onsrud Tooling Package (See Below)
Pressurized and Lubricated 25mm Bearing System
2 Air-Actuated Pop-Up Stops for Locating Material
WinCNC Windows Controller Software
NEEDED TO OPERATE THIS MACHINE
208/230V three-phase power (60 Amp Service)
An isolated ground rod will need to be driven into the ground to connect the #12 ground wire from the computer control cabinet. This ground rod must not be a shared ground, building ground, water pipe ground, or any other ground. Your electrician will need to run the 60 Amp 208/230V three-phase service line to the disconnect located on the side of the control cabinet enclosure.
Provide 5-9 CFM at 95-105 PSI, refrigerated clean, dry air to the machine.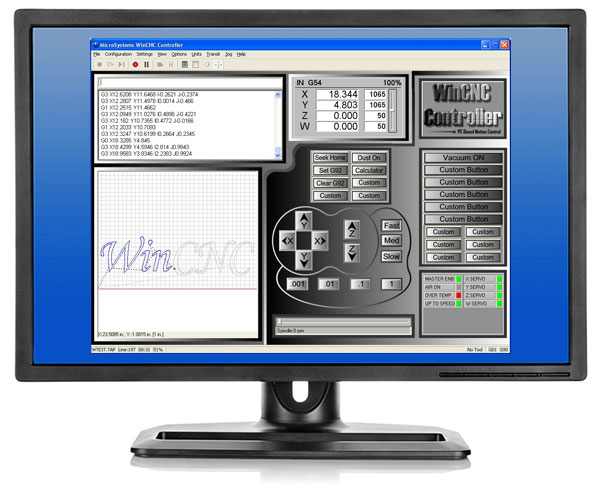 Control it from a PC!
Every CNC machine comes with WinCNC Software pre-installed. Ask about our industry-specific custom applications.
LOOKING TO FABRICATE CURTAIN WALL?
We're only a contact form away.
CNT Motion Systems has a solution that's just right for your application. Let's talk.
Speak with an Engineer Today