CNT-1000 Series CNC Router (refurbished)
This used CNC machine is refurbished, inspected and ready for delivery!
Used CNC Machine
(CNT-1000 Series CNC Router)
This full-sized, servo-powered, high-performance used CNC machine is perfect for heavier applications, including nested-based fabrication of plastics, hardwoods, solid surface and non-ferrous metals.
This 60″ X 144″ cutting area, CNT-1000 Series CNC machine was put into service on May 14, 2013. It was used for CNT Motion's manufacturing department to produce parts from aluminum sheet and plate material. Over a span of 10 years, it has only clocked 2038 hours of total run time. It was taken out of service and replaced by a machine with a larger cutting area in 2023. It has been completely refurbished and recertified to offer for sale with the same service and one-year warranty of a brand new machine.
If new, this used CNC machine would cost $91,370.00.
Don't miss out on this great opportunity to automate your shop, or add to your existing fleet!
Used CNC Machine (CNT-1000) Photos
Click to enlarge.
USED CNC MACHINE (CNT-1000 SERIES) FEATURES & SPECIFICATIONS
2200 IPM Positioning Speeds X- & Y-axes
500 IPM Positioning Speed Z-axis
Mitsubishi AC Brushless Closed-Loop Servos
Y-axis Helical Rack and Pinion Drive
X-axis 25mm Hiwin Rotating Nut Ball Screw Drive
Z-axis 16mm Hiwin Ball Screw Drive
NEMA 12 Computer Control Cabinet
NEW WinCNC Windows Controller Software
Travel 99″ X-axis, 154″ Y-axis, 15″ Z-axis
60″ Wide X 144″ Long X 7″ Tall, Cutting Area, 11″ Throat
113″ Wide X 172″ Long X 98″ Tall, Physical Footprint
Perimeter Cable E-Stop
Computer Control Spindle On/Off/Speed Changes
Automatic Tool Length Measure Switch
64″ Wide x 172″ Long Structural Table Base
Includes Onsrud Tooling Package (See below)
Pressurized and Lubricated 25mm Bearing System
WHAT ELSE YOU GET WITH THIS MACHINE
Starter Set of Router Bits ($700.00 Value) includes; 2-1/2″ diameter spoilboard cutter, router bits for wood/plastic/metal, depending on your application.
Type 12 UL-listed Enclosure on casters that houses all electronics, NEW Windows10 Pro Computer with 17″ flat-screen color monitor, 8 GB of RAM, 6 USB ports, wireless keyboard and mouse.
One 12-HP (9kW) HSD ISO30 4-Pole 230V Tool Change Router Long Nose Spindle with Advanced Dust Collection Hood, 24,000 RPM On-the-fly Spindle Speed Control.
27 Total Tool Positions are on the machine; 7 on the left side of the bridge (X-axis) and 7 on the right. The remaining 13 are located at the rear of the machine. The machine comes with 8 NEW ISO 30 Tool Cones and your choice of 8 NEW Collets for the tools you would choose to use.
NEW 25-HP 230V FPZ Regenerative Vacuum Blower and Switch Gear, 13.2″ Hg, 380 CFM, 60″ X 144″ X 1/2″ Aluminum Vacuum Grid with 60″ X144″ X 3/4″ LDF Spoilboard. 25-HP 230V Mitsubishi Variable Frequency Drive lowers demand of inrush current during start up.
3-day Installation and Training. Purchaser is responsible for all travel and lodging expenses of installation/training personnel, including excessive travel.
5 Air-actuated Pop-up Stops for locating material; 3 along the 144″ Y-axis and 2 along the 60″ X-axis.
This machine has had a full mechanical inspection and re-calibrated with Faro Laser Tracker interferometer. Positioning, backlash, straightness and resolution.
NEEDED TO OPERATE MACHINE
208/230V three-phase power
Isolated Ground Rod. This ground rod must not be a shared ground, building ground, water pipe ground or any other ground. Your electrician will need to run a 70amp 208/230V three-phase service line to the vacuum's VFD. We will provide a 10-ft. pigtail on the vacuum blower to reach the motor VFD. Your electrician will also need to run a 40amp 208/230V three-phase service line to the disconnect located on the side of the control cabinet enclosure.
Provide 5-9 CFM at 95-105 PSI, clean dry air to the machine. Refrigerated air dryer recommended.
Cad Cam Software to create programs. (CNT can provide.)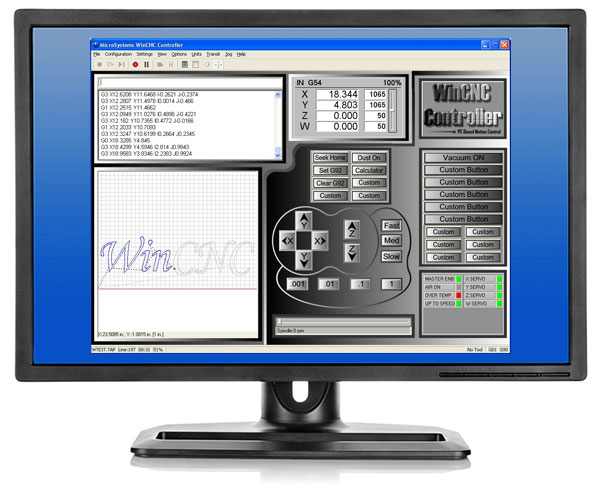 Control it from a PC!
Every CNC machine comes with WinCNC Software pre-installed. Ask about our industry-specific custom applications.
CONTACT CNT MOTION TODAY FOR MORE INFORMATION.
Or call 412-244-5770 to speak to a representatve right now!
Speak with an Engineer Today